UPEI School of Sustainable Design Engineering receives $2M from Cavendish Farms to support sustainable farming solutions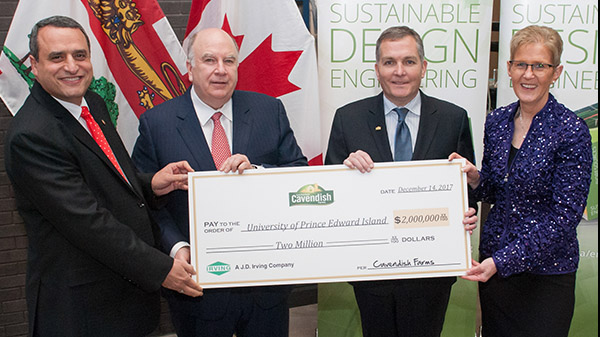 December 15, 2017 - Charlottetown, PEI
Cavendish Farms has announced a $2 million donation to the University of Prince Edward Island's School of Sustainable Design Engineering to support sustainable farming solutions in the agricultural industry. Engineering is a key priority of the UPEI's INSPIRE! Campaign.
"With our roots on Prince Edward Island, Cavendish Farms is proud to support the UPEI School of Sustainable Design Engineering as they develop innovations for the agriculture industry here on the Island and across the globe," said Robert K. Irving, President of Cavendish Farms. "Cavendish Farms has a strong commitment to the environment and sustainable farming practices. This donation will help continue to further sustainable farming for years to come."
The UPEI School of Sustainable Design Engineering (SSDE) advances knowledge, grows industries, improves health, and betters society by developing engineers with exceptional design skills combined with global perspectives. Recognized nationally for program innovation, the SSDE works to find solutions to complex, real-world challenges through a collaborative team approach. Teams function like an engineering consulting firm where students work alongside global experts from higher learning, research and development, industry, and community partners.
"We are deeply grateful to Cavendish Farms for their generous support to our INSPIRE! Campaign, and for their vision to advance sustainable solutions of direct benefit to the agriculture industry and our communities," said UPEI President and Vice-Chancellor Alaa Abd-El-Aziz. "The generosity of Cavendish Farms will enable a level of innovation pursuit that we have not experienced here on PEI before. On behalf of UPEI, I thank Cavendish Farms for being a catalyst for the creation of new knowledge by supporting the science needed to unlock areas of potential that exist between PEI's most traditional and most rapidly emerging industries."
The donation by Cavendish Farms is the largest single donation to the INSPIRE! Campaign to date.
About the INSPIRE! CAMPAIGN – Building upon the University of Prince Edward Island's impressive reputation of providing quality education, the INSPIRE! Campaign ensures that UPEI will continue to evolve and deliver exceptional learning experiences and opportunities that prepare students for success. Launched on October 2, 2015, the INSPIRE! Campaign has four key priorities that align with the University's strategic plan: Engineering, Experiential and Global Learning, Veterinary Medicine, and Athletics.
About Cavendish Farms – Cavendish Farms is a family-owned company that produces quality frozen and fresh potato and appetizer products for the North American and international food industry. They operate six processing plants including three on Prince Edward Island.
-30-
Media contacts:
Nicole Phillips
Associate Director, Marketing and Communications
University of Prince Edward Island
902-566-0947
nphillips@upei.ca
Mary Keith
VP of Communications
J.D. Irving, Limited
506-650-8209
keith.mary@jdirving.com