Cavendish Farms Makes Significant Gift to the Holland College Foundation's Nourish Campaign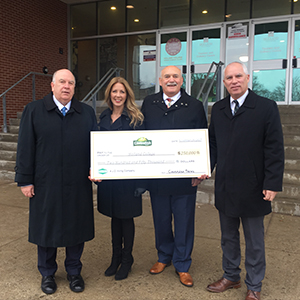 December 8, 2017 - Charlottetown, PE
Long-time Holland College supporter, Cavendish Farms, recently made a $250,000 gift to Nourish, a capital campaign to enrich The Culinary Institute of Canada. This gift augmented a $1,000,000 commitment that Cavendish Farms had previously pledged to the effort.
The Nourish campaign, led by the Holland College Foundation, is part of a $7.5 million renovation and expansion taking place at the Tourism and Culinary Centre. $5.1 million was provided through a federal-provincial investment, with $2.4 million being raised by the Holland College Foundation. Inclusive in the $7.5 million objective is a $500,000 contribution to financial aid for students entering programs at The Culinary Institute of Canada.
Cavendish Farms has been a supporter of Holland College since 2008 when they invested $1 million to help establish Canada's Smartest Kitchen, a food product development facility at The Culinary Institute of Canada.
Cavendish Farms is a family-owned company that produces quality frozen and fresh potato and appetizer products for the North American and international food industry. They operate six processing plants including three on Prince Edward Island.
In addition to the contribution by Cavendish Farms, President Robert K. Irving made a personal gift of $50,000 to the Nourish Campaign. Mr. Irving has also been a steady supporter of Holland College, having co-chaired the College's Learning. For Life. Campaign alongside Ray Murphy in 2009.
"We are proud of our roots on Prince Edward Island and want to help grow the province's economy and food sector," said Mr. Irving. "This contribution to Holland College and The Culinary Institute of Canada allows for continued culinary innovation, which benefits our organization and the industry here on the Island."
Dr. Brian McMillan, President of Holland College, lauded Cavendish Farms for recognizing the importance of this strategic initiative.
"We are tremendously grateful to Mr. Irving and his team at Cavendish Farms for their ongoing leadership investments in The Culinary Institute of Canada," said Dr. McMillan. "Enriching the experience for our students is critical as we prepare them to meet the changing and current needs of a dynamic, robust, and growing food industry."
The Culinary Institute of Canada re-opened in November 2017, and is making plans for a grand opening in early 2018. For more information about the Nourish Campaign, visit hollandcollege.com.
-30-
For more information about this release, please contact Jo-Ann Campbell-Boutilier, Executive Director, College Advancement and the Holland College Foundation E-mail: jlboutilier@hollandcollege.com Tel: (902) 629-4273