Featured Product
view featured product Featured Product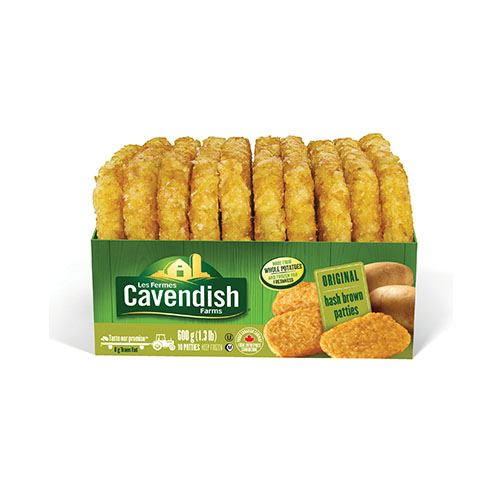 Original Hash Brown Patties
Our signature Hash Brown Patties; it's hard to imagine so much flavour in such a convenient size.
Ingredients
4 each Cavendish Farms Hash Brown Patties
4 slices Cheddar Cheese
3 cups Egg Whites
1 cup Red Pepper, chopped
2 tsp Butter
½ tsp Salt
½ tsp Pepper
Directions
Preheat oven to 450°F and place Cavendish Farms Hash brown Patties TM/RM in a single layer on a non-stick baking sheet.
Place in oven and cook for 10-12 minutes
Flip and cook for another 8-10 minutes or until desired doneness; then set aside.
Place butter in a non-stick frying pan on the stove top over medium high heat.
Pour ¾ cup of egg whites in frying pan and cook for 1½-2 minutes per side. Add red pepper.
Place hash brown patty in the centre of the egg whites and top with cheddar.
Fold each side of the egg whites over the hash brown and cheddar completely closing them inside.
Repeat for each of the following hash browns.
Note: while cooking remaining omelets, place cooked ones in the oven set for 180˚F to keep warm until ready to serve breakfast.