Featured Product
view featured product Featured Product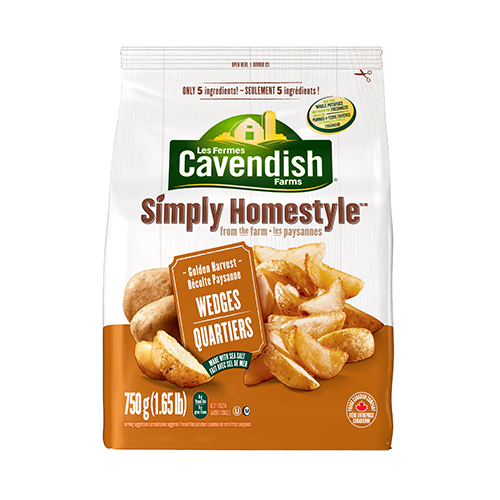 Golden Harvest Wedges
Simple and satisfying, these Cavendish Farms® Simply Homestyle Wedges are made with premium potatoes. The creamy pure potato taste of these skin-on wedges is subtly seasoned to perfection. An alternative to traditional French fries that are so delicious, they won't even realize they're eating their vegetables first.
Ingredients
1 Bag of Cavendish Farms Kettle Wedges™
4 6oz. Beef Tenderloin
4 tbsp Crumbled Blue
1 tbsp Chopped Parsley
Directions
Preheat oven to 450F
Mix together Blue Cheese and chopped Parsley and set aside
Place Wedges in oven and bake for 28-30 minutes, flipping halfway through.
With 10 minutes remaining on the Wedges, pre-heat a pan over high heat.
Season steak with salt and pepper, and place in pan for 2-3 minutes, or until well caramelized.
Flip steak and place in oven for approximately 7 minutes, or until desired doneness is achieved.
Remove steak and wedges from oven and let rest for 5 minutes.
Turn oven to broil.
Place Blue Cheese on top of steak and return to the oven for 1-2 minutes or until cheese is slightly melted, being careful not to burn it
Remove from oven, toss Wedges and serve.