Featured Product
view featured product Featured Product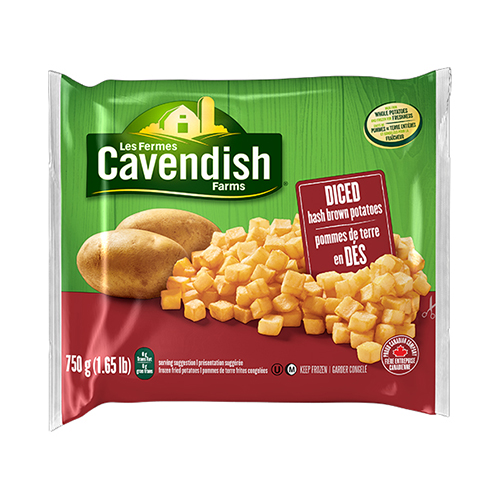 Diced Hash Brown Potatoes
Is your breakfast really complete without Cavendish Farms Diced Hash Brown Potatoes? We think not. Come to think of it, lunch and dinner may not be complete without them either.
Ingredients
3 tbsp salted butter, divided
3 cups Cavendish Farms Diced Hash Browns
½ medium red onion, diced
½ each red and orange bell pepper, diced
5 eggs, lightly beaten
½ cup shredded cheddar cheese
Salt and pepper
1/2 cup Salsa, optional
2 tsp Fresh chopped Parsley (optional)
Directions
In a 12" (inch) non-stick or cast iron skillet on medium heat, melt 2 tbsp. butter.
Sauté Cavendish Farms Diced Hash Browns TM/RM onions and peppers stirring occasionally for approx. 10 minutes or until onions and peppers are softened and Cavendish Farms Diced Hash Browns TM/RM are golden. Remove from pan and set aside.
In same skillet, melt remaining butter and scramble eggs. Gently fold in potato mixture and sprinkle with shredded cheese
Serve with salsa and a sprinkle of parsley if desired. ENJOY!